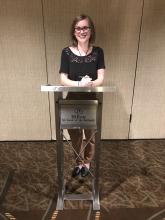 Did you receive any recognition (awards, publications, scholarship) for your applied learning experience?
CAS Research & Creative Activity Scholarship
Briefly describe your applied learning experience
On March 28 I traveled to St. Louis, MO, for the Sigma Tau Delta national convention. I presented my scholarly paper, which explores how a character in the film Harry Potter and the Goblet of Fire is affected by extreme gender performance and subsequently succumbs to homosocial panic. I was honored by this opportunity to share my academic work; it complemented my coursework by giving me the experience of public speaking in a professional setting.
Did you receive any grants or other funding for your applied learning experience?
Scholarship or Fellowship
Other
How did you get involved in this applied learning experience and what did you hope to gain from it?
Every spring, Sigma Tau Delta, the international English honor society, holds its annual international convention, a unique event that allows hundreds of members and sponsors from around the United States and beyond to gather in one locale, share experiences and expertise, be recognized for their achievements, and participate in the official proceedings of the Society. The convention also provides opportunities to discover new ideas in English and English-related disciplines, while engaging with speakers, presenters, and texts that members might not otherwise encounter.
My scholarly paper uses the lens of queer theory to examine the film Harry Potter and the Goblet of Fire, which based on my prior research, is a unique approach to studying this film. My paper attempts to critique portrayals of binary and extreme gender performances by examining the consequences this behavior has on Ron, who exhibits homosocial panic throughout the film. This paper began as a classroom assignment, but because of my love for both the critical study of both queer theory and pop culture, I was able to modify it for the context of the national convention. I am honored to have received this distinction for a work that I feel such an attachment to.
This is my second semester serving on the executive board of Sigma Tau Delta as the secretary. One of our chapter's main goals this year is to demonstrate how the relevance of studying English extends far beyond reading books and writing papers (although those are still central components of the discipline). I firmly believe that people who study English know how to entertain complex ideas, argue with intelligence, and analyze current events without giving in to popular opinion or personal bias. All of the work I do at Sigma centers on spreading my love for the discipline of English in the hopes that I can provide opportunities for others to benefit from. I hoped to immerse myself in a group of like-minded people and hear others share their work that they care so much about.
What did you gain from this experience? What was challenging? What did you learn?
Being at convention proved to me that not only would I be excited and stimulated to be in a graduate school setting in the future, but also that I would fit in. I have never been able to picture myself in a higher level of academia before this experience, but now I know I would thrive in that environment. The experience of sitting on a panel and being able to answer questions about something I am passionate about made me excited for future when I am invited to a panel whether as a professor, an academic, a writer, or a professional. 
I am grateful for the opportunity to be around so many people who love English for a few days. Our English department is rather small, and I am in the professional writing track, so I haven't gotten to take as many literature- and theory-based courses as I would have liked. I am a double major studying English and creative writing—creative writing has always been my first love, but attending convention reminded me why I chose to study English to begin with. 
It was challenging to network and socialize, which is a main reason people attend conferences. After presenting my paper and attending panel sessions all day, I couldn't find the energy to network, which makes me sad.
In what way will this experience make you a more viable candidate when you are seeking a job or applying for graduate study?
Being a member of Sigma Tau Delta is an internationally recognized honor; it demonstrates my commitment and level of activity that I submitted my paper, was accepted, and attended convention.
Not many people with bachelor's degrees have presented academic work and sat on a panel before, so this experience gives me an edge when seeking out graduate school programs. Although it may not be directly applicable to future professional experiences, it demonstrates my curiosity and passion, which is something employers always want to see.