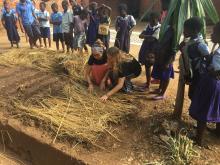 Briefly describe your applied learning experience
For my applied learning experience, I decided to teach students in Domasi's primary school basic health and social needs and how to do basic gardening. For basic health and social needs, I taught children how to get fungus out of their hair with toothpaste. I taught them to clean cuts and scrapes. The garden project was meant as a learning experience for the students in order to combat famine within the country. My hope was that the children would be able to grow their own food if need be and teach their families how to do so with just seeds and the soil around them. Together, the class and I cleared the land and prepared the soil to plant. I demonstrated how to plant cabbage, tomatoes, and carrots and gave them the basic knowledge of gardening in terms of sunlight, water and nutrient needs of the plants. They then mimicked my teaching and together we planted a beautiful garden in the school's courtyard. 
How did you get involved in this applied learning experience and what did you hope to gain from it?
After seeing the Malawi table at the Study Abroad fair, I was intrigued. I decided I wanted to travel to Zomba, Malawi, and work in the school to make a difference. So on a whim, I met with the professor and signed up for the program. During the class, I volunteered to take over teaching the students' basic health and social needs. After reading about the growing rates of child famine in the country, I came up with the idea to create a school garden and raised funds from friends, family and local businesses to try and make a difference. 
What did you gain from this experience? What was challenging? What did you learn?
From working in such an impoverished country, I gained perspective on my life. The most challenging thing while spending time in country was communicating with the local people. In Malawi, English is spoken, but the culture is very different. I often found it challenging to initiate conversation, in fear of offending or coming off as a rude American. Therefore, I just asked many questions about what was happening around me. I learned about the main difference between Malawian schooling and American schooling, and the testing that Malawian students need in order to go to continue their education. However, my favorite learning experience I had was when I was taught to play the djembe drum by a teacher named Innocent. 
In what way will this experience make you a more viable candidate when you are seeking a job or applying for graduate study?
As the leader of two projects, I learned time management, how to gather donations and allocate funds, and how to effectively work in a team setting while mediating conflicts. I was either working with other UNCW trip members, or Malawian teachers to help students. I worked with all different types of people with different ethnicities and backgrounds, and can honestly say I learned more from the people I met than I ever would have if I had stayed in the United States for the summer. This trip added to my knowledge of the world. From being to end, the trip was about working with others to accomplish a common goal.