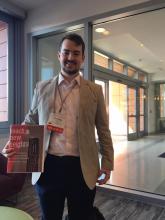 Briefly describe your applied learning experience
I was quite nervous going into the project because I knew it would be intense and serve as my toughest academic challenge yet; however, with the help and  support of my mentor, friends and family, I felt confident in my ability to succeed. Over the course of my research experience I have grown more confident in my abilities as a researcher and a student. The opportunity to serve as CSURF research ambassador has furthered my appreciation for academia and afforded me the opportunity to share my love of history with my peers. I was also fortunate to present my honors project at state and national conferences which furthered my confidence in explaining and defending my research. I am very grateful for the opportunities that my research experience has provided me. 
 
How did you get involved in this applied learning experience and what did you hope to gain from it?
I first worked with my thesis advisor, Dr. Usilton, through serving as President for the UNCW Historical Society, which he was the faculty sponsor for. After taking an upper-level history course with him, I realized how strong a history student I could become with his guidance. The class I took with him required a 10 page final paper that served as the inspiration for my honors project. I combined his experience with medieval history and my interest in environmental history to undertake my research on corruption in medieval English royal forests. I went into the project hoping to challenge my skills as a writer and historian and this project has done both of those things. The need for strong prose and grammar has greatly improved my skills and the hours spent using archives has improved my research methods tremendously. 
What did you gain from this experience? What was challenging? What did you learn?
This experience exponentially improved my writing abilities, interpersonal communication skills, time-management, and organizational skills. The dedication needed to complete this project turned me into a more well-rounded student and furthered my connections in the UNCW history department. The most challenging aspect of the thesis has been time managment as the project is expansive and has required a well-formed outline and schedule for completion. I learned that I am capable of doing in-depth research and that I am well-prepared to continue towards graduate school. 
In what way will this experience make you a more viable candidate when you are seeking a job or applying for graduate study?
I am grateful for this experience because my project has helped me develop as a student of history and has given me skills that will help me succeed in graduate school. The experience of working closely with a professor has improved my writing abilities while the repeated discussion of my project has improved my interpersonal communication skills. The extensive nature of the project has pushed me to improve my time management and organization abilities. This experience, while stressful at times, has been transformative for me as both a student and a person and has prepared me for the rigorous nature of graduate school.