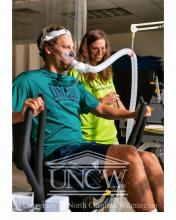 Did you receive any recognition (awards, publications, scholarship) for your applied learning experience?
Ann Sherman Skiba Undergraduate Research Fellsowship; CSURF Travel Award; seeking publication
Briefly describe your applied learning experience
For my applied learning experience, I developed and conducted a research project with my supervisor Dr. Tseh.  We studied the effects of neuromuscular electrical stimulation (NMES) during rest and exercise for apparently healthy males.  Studies have been conducted which prove the ergogenicity of using NMES as a training aid for disabled populations.  These populations include individuals spending an extended amount of time in critical care, and those with spinal cord injury, COPD, coronary heart failure, and stroke.  These individuals experienced various cardiovascular benefits such as improved VO2 max, heart rate, blood pressure, and aerobic capacity.  There have been fewer studies, however, which investigate the cardiovascular effects of NMES amongst apparently healthy individuals. Over the course of this project, we developed the experimental methods and project design, received approval from the UNCW IRB board, conducted data analysis on 20 participants, analyzed results, developed a manuscript of our findings, and presented results at various professional conferences.  We are currently preparing to submit the manuscript to a scholarly journal for publication.
Did you receive any grants or other funding for your applied learning experience?
CSURF
Scholarship or Fellowship
How did you get involved in this applied learning experience and what did you hope to gain from it?
During my time as an undergrad, I've been preparing to apply to Physical Therapy school.  In my junior year I started to have some more free time in my schedule so I wanted to do something that would make me stand out as an applicant.  I developed the idea for the project in a class I took my sophomore year- Research Methods in Exercise Science.  So I met with Dr. Tseh to discuss the possibility of conducting a research project and he helped me to modify the idea and navigate through the research process.  
What did you gain from this experience? What was challenging? What did you learn?
I learned that I enjoy the research process much more than I would have expected. It was challenging to recruit enough participants and get them in the lab for each of the four required sessions.  I think this project also gave me some insight into what type of work I would like to do in the future. 
In what way will this experience make you a more viable candidate when you are seeking a job or applying for graduate study?
Not many students participate in or complete a research project so by doing so, I think I stood out when applying for Physical Therapy school.  I applied to four programs in NC and have been accepted to all and I strongly believe a large part of that was due to my participation in research.  Students in most graduate health programs are expected to complete their own research project so I also feel my experience will make that process much easier.  Now, I'm really looking forward to starting PT school at ECU this May!