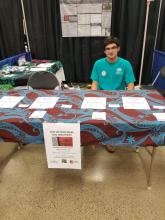 Briefly describe your applied learning experience
During the Summer of 2018, I was given the amazing oppurtunity to work with Dr. Michaela Howells, of the Anthropology Department here at UNCW, and her colleague, Dr. Christopher Lynn, of the University of Alabama's Anthropology department, on their project: Inking of Immunity. This project focuses on the health benefits of tattooing, specifically within the Polynesian culture of Samoa and American Samoa. Thanks to SURCA, I was able to travel to the Northwest Tatau Festival in Puyallup, Washington State, where I assisted Dr. Howells and Dr. Lynn in collecting salivary samples as well as ethnographic data for biocultural research. 
Did you receive any grants or other funding for your applied learning experience?
How did you get involved in this applied learning experience and what did you hope to gain from it?
I was invited by Dr. Howells to assist her and her colleague on this project during the Spring Semester of 2018. Dr. Howells decided to invite me onto this project due to the signifcanct role culture plays in this research. She and I had spoken several times about anthropology in general and I had told her of my interest in the cultural subfield. I hoped to gain invaluable experience as a researcher and a deeper understanding and appreciation of tattooing, and other forms of body modifcation techniques, through this project. 
What did you gain from this experience? What was challenging? What did you learn?
I gained a lot of useful skills as a researcher and team member throughout the research process. It also provided me with the necessary skills to further my academic career. This experience forced me out of my comfort zone and allowed me to see that I have the potential to move past the limits I set for myself. I learned that research can be fun and you get to meet amazing people all along the way.
In what way will this experience make you a more viable candidate when you are seeking a job or applying for graduate study?
This experience makes me a more viable candidate when I begin applying to graduate school by providing me with an exceptional applied learning oppurtunity and invaluable experience in anthropological field work. This will also show that I am a researcher who is able to work with a team, which will make me a more viable candidate.