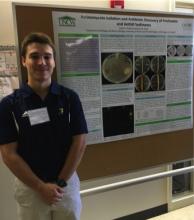 Did you receive any recognition (awards, publications, scholarship) for your applied learning experience?
CSURF Hosier Fellowship recipient
Briefly describe your applied learning experience
My applied learning experience began in the beginning of sophomore year, when I registered for BIO 292: Antibiotic Discovery with Dr. Kevin Kiser. This course involved research development to find novel antibiotics in soil bacteria. This course was my initial foot in the door to the big wide world of research on a microbial scale. In the first year of research, I learned the basic concepts of lab safety, experimental procedures, personal responsibility, documentation of experiments and the enjoyment of research itself through poster presentations. I traveled to conferences to present the research I performed, and I developed great communication skills through verbal presentations. From the initial BIO 292 course, I wanted to become more involved in microbial research, and Dr. Kiser encouraged me to take BIO 491: DIS (Directed Independent Study). Of course I could not resist the opportunity, and I gained even more knowledge on the bacteria isolates I studied. Also, attending two more UNCW showcases to present filled me with joy. Even after BIO 292 and 491, I wanted to keep moving forward in the field of research as an undergrad at the university. Dr. Kiser discussed the course BIO 499, which involves performing a research study, writing an honors thesis, and defending the thesis in front of a board of professors. I am currently taking this course now, and I cannot wait to see what I have achieved by the end of the year. My honors project involves performing bioassay data to find the inhibitory characteristics of genetically identified soil bacteria against pathogenic bacteria. Another key feature of my honors project will be the discovery of a (hopefully) novel antibiotic.
Did you receive any grants or other funding for your applied learning experience?
CSURF
ETEAL
Scholarship or Fellowship
How did you get involved in this applied learning experience and what did you hope to gain from it?
At the end of my freshman year, I knew I was going to be deeply infatuated with biology, but I never predicted I would be deeply involved in microbial research. I was taking BIO 202 with Dr. Long, and one day in class he talked about a new course being developed on campus called BIO 292: Antibiotic Discovery. I was intrigued, and I had to apply to be given permission to take the course. I applied late. I formally apologized to Dr. Kiser, and sent in my application for the course. I was accepted, and I am thankful every day for the opportunity to be his student. I visualized my applied learning experience as a series of invaluable opportunities to build extraordinary relationships with mentors, gain knowledge on the hot topics of research. The most important aspect I hoped to gain from my learning experience was finding out what I wanted to do for the rest of my life. I hoped to find my niche in research.
What did you gain from this experience? What was challenging? What did you learn?
I gained more than I ever imagined from this experience. Besides learning experimental information, writing research proposals, relationships with amazing professors, networking with other professors on campus, I learned about personal responsibility in the lab where I was given 24-hour access to perform my research. The effort I put into my research contributed to the knowledge I gained from spending hours performing different experiments independently. Did I mess up in the lab? Plenty of times. There would be contamination in my cultures, and I could not fathom discovering the explanation why. The important concept is learning from my mistakes early on and adapting my research protocols to prevent future mistakes down the line. Keeping up on deadlines for conference applications were challenging, mainly because I did not have the results yet to the experiments I ran due to culturing time. Learning how to write a formal grant proposal was difficult at first, but after writing two with Dr. Kiser's guidance, I am able to write a proposal without worry. I learned a lot about myself through microbial research. I learned about the importance of connections between students and mentors. I am thankful for the opportunities I was given in the research community at UNCW, and I thank CSURF and ETEAL for allowing me to perform research through funding and presentations.
In what way will this experience make you a more viable candidate when you are seeking a job or applying for graduate study?
Experience in the microbiology lab for three years will definitely make me a more viable candidate when I am applying for a graduate study or finding a job. I actually obtained a job through my research experiences at the Marbionc biotechnology lab as an undergrad. Every year I perform research, my resume becomes increasingly stronger. If I am able to get my honors thesis published, I will be extremely elated and proud of newfound knowledge I presented to the scientific community.