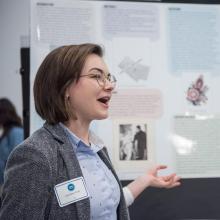 Did you receive any recognition (awards, publications, scholarship) for your applied learning experience?
National Collegiate Honors Council's 1st Place Sloane Prize for Undergraduate Research, Wentworth Student Travel Fellowship
Briefly describe your applied learning experience
I began preparing for my interdisciplinary Honors project in visual poetry as contemporary feminist poetics with a DIS in concrete poetry with my advisor. My research investigates visual, collage, and comics poetry as strategies of a feminine aesthetic, featuring work by North American women from the 1950s through 2017. I started the first semester of my thesis with a Wentworth Fellowship to upstate New York to conduct archival research in the Poetry Collection at the University of Buffalo and attended a conference in concrete poetry at St. Bonaventure University. I continued my research into the summer with the help of a Support for Undergraduate Research and Creativity award (SURCA) and completed two of my thesis chapters and a journal review under Dr. Porco's mentorship. Last fall, I presented my research at the National Collegiate Honors Council conference in Atlanta, Georgia, and my project was recognized with a 1st-place prize across all presentations in the arts and humanities. I'm preparing to defend my thesis in April of this year. 
Did you receive any grants or other funding for your applied learning experience?
CSURF
ETEAL
SURCA
Scholarship or Fellowship
How did you get involved in this applied learning experience and what did you hope to gain from it?
As a member of the Honors College, I knew that I had to complete a departmental honors project and I wanted it to be something I could use for my graduate school applications. I was first introduced to comics poetry after I started reading graphic memoirs and the idea for my project came together when I took Dr. Porco's class on the Black Mountain College poets, which included some study of visual poetry. While I hoped to leave UNCW with a polished thesis I could excerpt from for writing samples, I also hoped to gain some skills that would come in handy down the road—things like archival research, poster-making, and presenting at conferences. I was able to do all of those things and more as a result of my research. 
What did you gain from this experience? What was challenging? What did you learn?
My Honors project has been the most difficult and most rewarding thing I could imagine doing as an undergraduate. I learned so much about my own practices as a writer and overcame a lot of self-doubt I had about my abilities. I don't see much of a divide between my critical and creative writing as a result of doing interdisiciplinary research. It contributed to my creative work in so many ways. I'm now working on my own poetry comics, one of which was published in a journal last fall. 
In what way will this experience make you a more viable candidate when you are seeking a job or applying for graduate study?
My undergraduate research experience has already been a huge help to my job search for positions in academic publishing. It indicates that I'm able to work independently and grasp scholarly research methodology. I know that my thesis project will support my graduate applications in the future. Working closely with a faculty mentor and thesis committee helps with my recommendation letters, and my writing samples are already prepared from my thesis chapters.