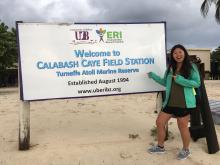 Briefly describe your applied learning experience
This was a short-term, spring, faculty-led study abroad program to Belize. We stayed at the University of Belize Calabash Caye Field Station on Turneffe Atoll located along the Belize barrier reef system, the longest barrier reef system in the Caribbean. We explored the coastal ecosystems of Belize including coral reefs, mangrove swamps, and sea grass beds. We learned and practiced various research methods in the field and used them to develop and execute a final research project. 
How did you get involved in this applied learning experience and what did you hope to gain from it?
I first heard about this study abroad trip from my professors in the EVS department. From this experience, I hoped to gain new knowledge, new experiences, the exploration of a new country and culture, new friendships, and new memories. 
What did you gain from this experience? What was challenging? What did you learn?
From this experience I learned so much, not only education wise, but personally. This was the first time I had ever traveled alone so that in itself was a new challenge and experience. I gained crucial research skills and knowledge in my field as well as new friendships, memories I will never forget, new adventures, and a love for a country I probably would not have ever visited if I hadn't participated in this trip. 
In what way will this experience make you a more viable candidate when you are seeking a job or applying for graduate study?
My experience in Belize helped me further develop personally and academically. I learned different research techniques to use within the three different coastal ecosystems of Belize and created, developed, and executed a research project. I believe that studying abroad makes you a more viable candidate for jobs because it shows that you have an open mind and that you are willing to step out of your comfort zone and try something new.