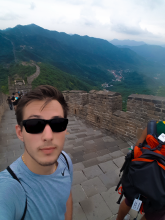 Did you receive any recognition (awards, publications, scholarship) for your applied learning experience?
Just a letter of recognition stating that I completed a study abroad summer session.
Briefly describe your applied learning experience
During the Summer of 2017, I was fortunate enough to be able to go to China in a study abroad program. This study abroad session took place mostly in Shanghai, where students were able to take multiple classes regarding any subject. In my case, I took three business courses and a foreign language course (Mandarin). Long story short, it was one of the best experiences of my life. I was able to meet new people from all corners of the world, learning about their cultures at the same time. While there, the other students and I would often travel to different popular cities during our free time. We visited places like Beijing, Qinqdao, and even Hong Kong. I could keep writing forever, describing how amazing the entire study abroad program was, but the truth is that you have to experience it for yourself in order to fully understand how great it all is.
Did you receive any grants or other funding for your applied learning experience?
Scholarship or Fellowship
How did you get involved in this applied learning experience and what did you hope to gain from it?
Ever since I was a kid, I have always loved traveling. It didn't matter if I was going to another city, state, or even country. As long as I was traveling, I was be happy. With that being said, after my sophomore year, I started looking for a program that would allow me to travel for a considerable low cost and that would also bring advantages to my academic and personal life. Well, I found one!
What did you gain from this experience? What was challenging? What did you learn?
Honestly, I didn't have to face any major challenges while in the program. I'm a pretty easy-going person who can befriend others rather easily, which ended up making things a lot simpler… In general, this experience helped me improve my language and negotiation (haggling) skills. But in my opinion, that wasn't my biggest gain from this whole study abroad program. What really made me value this experience was that while on it, I was able to get a clearer view of my strengths and weaknesses. Putting myself out there allowed me to see what was I good at and the things that i had difficulty in performing. Knowing these type of things then further allowed me to work on my weaknesses, to the point that most of them are now gone, and take advantage of my strengths, transforming them into special capabilities.
In what way will this experience make you a more viable candidate when you are seeking a job or applying for graduate study?
This experience granted me the opportunity to get a better view of myself, and a the same time made me improve in areas in which I was previously lacking. That by itself is a major benefit of this program. Not only does it give you a great asset to put on your resume, but most importantly, it gives you the opportunity to improve yourself in a way that your skills will be valued by different employers. ​