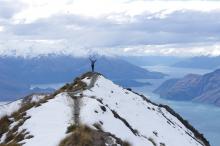 Briefly describe your applied learning experience
In 2016, I did not experience July 8th. I left Washington D.C. on July 7th and flew 22 hours through multiple time zones and landed in New Zealand on July 9th. Friends of my parents picked me up from the airport and drove me to their house to stay for a couple of days to get adjusted to the new surroundings before school started. While in New Zealand, I attended Massey University, located outside of the capital, Auckland. The campus was quaint and didn't take long to feel like a second home. 
How did you get involved in this applied learning experience and what did you hope to gain from it?
When I was in high school and trying to decide which university to attend, I diligently checked each school's study abroad program. I knew I wanted to study abroad during my college years, so I knew I had to pick a college with a good program. UNCW had programs to New Zealand, my number one choice of locations to study abroad. This was a big deciding factor when choosing which university I would attend. 
I hoped to gain a broader understanding of other cultures and the world around me, as well as experience the Earth and see its magnificent creations.
What did you gain from this experience? What was challenging? What did you learn?
This experience gave me a very bad case of the travel bug, and ever since I came back, I have been yearning to go back. I grew a lot from this experience, as it was very challenging and scary to show up in a country that you've never been to before, where you do not know anyone, and knowing that you are going to be there for the next five months, no matter what. However, I became more independent through this adventure, and discovered that I love New Zealand an inordinate amount. Lastly, this experience confirmed my life motto...that life begins outside your comfort zone. 
In what way will this experience make you a more viable candidate when you are seeking a job or applying for graduate study?
I believe that this experience will make me a more viable candidate because it has provided me with experiences that other candidates will not have. It shows that I am flexible, able to travel, have experience with other cultures, and am not afraid to go outside my comfort zone.