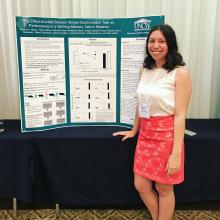 Did you receive any recognition (awards, publications, scholarship) for your applied learning experience?
UNCW Board of Visitors CSURF Fellowship
Briefly describe your applied learning experience
Since Fall 2015 I have been an undergraduate research assistant in the Analysis of Behavior, Behavior Pharmacology, and Comparative Cognition (ABC) lab under the direction of Dr. Kate Bruce and Dr. Mark Galizio. Our psychology lab has multiple ongoing studies involving the extent of rat memory and how certain drugs can affect this memory. During the Fall 2015 and Spring 2016 semesters I tested a rat following a Masters student's procedure designed to study list learning in rats. In Spring 2016 I traveled with other members of the lab to present this research on a poster at the Comparative Cognition Conference. In Fall 2016 I tested another rat for a different project, studying memory deficit effects of schizophrenia through administration of the drug ketamine. Since Spring 2017 I have been testing rats using my own procedure that I created under the direction of Dr. Bruce. My study will look into the episodic memory capabilities of rats by determining if they can remember which scented stimuli were associated with a chocolate pellet reward vs. a sugar pellet reward. I am currently in my second semester of my Honors Project, planning to defend in Spring 2018, and have another undergraduate in the lab testing a rat using my procedure.
Did you receive any grants or other funding for your applied learning experience?
CSURF
Scholarship or Fellowship
How did you get involved in this applied learning experience and what did you hope to gain from it?
Although I am a Marine Biology major, I entered UNCW as a freshman already planning on minoring in Psychology. In my first semester I took Dr. Bruce's honors freshman seminar discussing the cognitive abilities of different animals and how humans study these animals. My second semester I took Dr. Bruce's evolutionary psychology class. Although this class focused more on aspect of human psychology, I gained a lot of practice reading and analyzing primary literature, a skill that was necessary once I joined the lab. I was interested in Drs. Bruce and Galizio's research, and after discussing it with Dr. Bruce throughout the Spring semester I was offered a position in the lab the following Fall. While I was not completely sure what I wanted my Marine Biology career to be after college, I knew that I wanted to work hands-on with animals, preferably marine mammals. While all of the Biology labs at UNCW do amazing work and are very interesting, I found that a lot of them involved examining aspects of dead marine animals or working with invertebrates. My hope before joining the lab was that I could gain experience handling an animal in a research setting, and I thought that if I found a Biology lab that piqued my interest I would transfer from the ABC lab. However, I didn't!
What did you gain from this experience? What was challenging? What did you learn?
Since joining the ABC lab, I have realized that after my time at UNCW I want to study cognition in marine mammals like sea lions and dolphins. I have found this research interesting and challenging, and the exposure I have gained through attending the Comparative Cognition Conference twice has shown me how much animal cognition research is out there. I have realized that what interests me most is the area of study where marine biology and psychology intersect, and I am now looking at internships and jobs revolving around studying the behavior of animals to gain experience before entering graduate school. It was challenging entering the lab without any previous behavior analysis training, but since my first semester I have learned a lot through the research articles we have read and the discussions I have had with other research assistants about their projects.
In what way will this experience make you a more viable candidate when you are seeking a job or applying for graduate study?
Although I am not working hands-on with marine mammals every day, I think that I will make a more viable candidate for jobs or graduate schools because I have experience handling an animal according to specific guidelines. Having a lot of experience reading and analyzing primary literature will help once I enter graduate school and could potentially help me find a job if I look for positions in comparative cognition labs. Throughout my time in the lab I have applied for and received two research supplies grants from CSURF that purchased supplies for the lab and a CSURF Research Fellowship grant involving my Honors project. This experience writing grants will definitely make me a more desirable candidate for graduate school positions, as grant funding is what many labs rely on to continue their research.